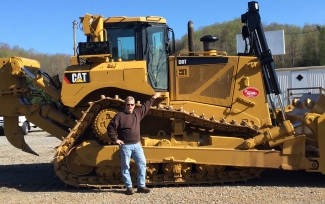 About
Glass Machinery & Excavation, Inc. has been serving the construction needs of southwest Virginia for over 30 years, since the early 1980s. Started by Greg Glass with only a Case backhoe and a dump truck, Glass Machinery has grown from the ground up into a full-service heavy/highway and civil site construction contractor comprised of over 150 full time employees operating in three states. Today Glass Machinery & Excavation operates as a licensed contractor performing all facets of horizontal construction including highway construction, site construction, underground utilities, civil concrete, light paving, and public road maintenace.
Having served clients across southwest Virginia, northeast Tennessee, and southeast Kentucky has provided us with a unique and well-balanced resume of projects and core competencies. The diversity of our clients and projects has well prepared our team for whatever challenges may arise throughout the life of any construction project. Our preparedness and professionalism is among the best in the business, however we constantly strive for improvement. Our core competencies include:
Highway Construction
Civil Site Construction and Development
Mass Excavation
Segmental & Cast-in-Place Retaining Wall Construction
Residential Asphalt Paving
Civil Concrete Construction and Placement including slabs, sidewalks, and curb & guttering
Underground Utilities
Horizontal and Directional Boring
Construction Material Trucking
Licenses & Certifications
Class A General Contractor in Virginia; Specialty Heavy/Highway
Licensed General Contractor in Tennessee
VDOT Pre-Qualified since 1989
SWaM (Small, Women, and Minority) designated business recognized in Virginia
eVA Registered
HUBZone Certified under the U.S. Small Business Admistration
Member of Associated General Contractors (AGC) Tri-Cities Branch
Clients
Glass Machinery & Excavation has served a wide array of clients over the last thirty years of business. From excavation, grading, and utility installation to paving and long-term maintenance, we have served clients across the southwest Virginia, northeast Tennessee, and southeast Kentucky region. A short list of clients includes:
Virginia Department of Transportation (VDOT)
Virginia Department of Mines, Minerals, and Energy
U.S. Department of Agriculture – Forest Service
Natural Resource Conservation Service (NRCS)
Mars and Shaffner, LLC (Kentucky private developer)
CSX Railroad
Lee County, Virginia PSA
Lee County, Virginia IDA
CVS Pharmacy
Burger King
Eastman Credit Union
Wise County Board of Supervisors
Lee County Board of Supervisors
Scott County Board of Supervisors
Arch Coal, Inc.