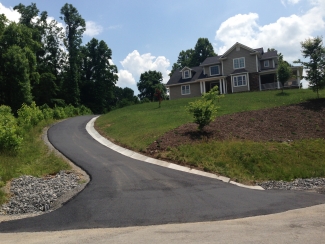 Asphalt Paving Services
Glass Machinery & Excavation offers professional paving and pavement repair services all the way from new driveway installation up to asphalt repairs on your existing driveway at home or parking lot at your church or place of business. Our residential paving services include:
New Driveway & Parking Lot Construction
We can provide complete new driveway installation and construction services. Glass Machinery has the professional capability to grade the existing area, install stone base, and pave your new driveway or parking lot with compacted asphalt at your desired thickness.
New Asphalt Topping over Existing Paved Areas
If you already have a good driveway, however the pavement suffers from cracks or areas that hold water, application of a new asphalt topping could be the solution to your problem. Glass Machinery can apply a 1.5" asphalt topping professionally and efficiently to your existing driveway and take care of those old, unsightly cracks. No more weeds growing through your pavement!
Driveway Repairs
For those sore spots in your existing driveway, Glass Machinery has the expertise and experience to correct those deficiencies. Low areas due to settling, water, or other weathering can be corrected oftentimes by cutting out those areas and patching with new asphalt. Let Glass Machinery provide a quote today to fix up your driveway or parking lot!
---
Photos From Previous Projects
---