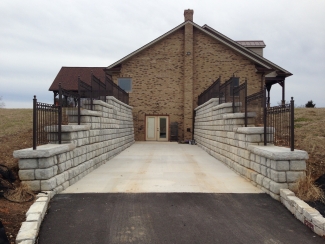 Segmental Retaining Walls
Oftentimes you need more flat space and the only option is to build a retaining wall. Glass Machinery has extensive experience in the construction and design of both cast-in-place concrete retaining walls as well as segmental block retaining wall systems. We have successfully constructed many types of retaining walls in both residential and commercial applications.
The project featured is a residential application using Redi-Rock® concrete blocks to create the retaining wall. The walls on each side are approximately twelve feet tall and feature steps built in to the wall. Glass Machinery also performed the grading and paving at this site. For more information on the Redi-Rock® retaining wall system visit www.redirock.com.
---